CW: Mentions of and references to strong sexual content, rape, incest, pedophilia, homophobia, biphobia, and domestic abuse. Images are blurred but still sexual in nature.

Meltys Quest is a bit of an oddity to me. I can normally just place a game in the "good" or "bad" category and be done with it. I did enjoy Meltys Quest overall, but there were also a lot of issues that I had with it, and those issues are ones that prevent me from giving it a blanket recommendation across the board. One of the key reasons that I choose to do away with review scores is because some factors may be more or less important for some people than others. A review is merely one interpretation of the game in question, and one's own interpretations will be based very heavily on their own backgrounds.
My own background as a feminist is one that makes me a lot more critical of certain aspects of this game than most of its target audience will care about. While I am far from sex negative, I do tend to hold a lot of disdain for porn, or at the very least mainstream pornography. I don't believe that it is doing direct harm or needs to be banned like the stereotypical angry triggered feminazi stereotype does, but rather I think that most porn… kinda sucks, and I don't mean in the sexy way (although it does that to). If anything, I actually have far more respect for the eroge genre than most do because I don't think that being an eroge justifies shitty writing or immaturity. Yes, the intent of the game is kept in mind, but such a thing is just common sense when reviewing.
The prime example of how not to write an eroge can be found in that of Starless: Nymphomaniac's Paradise. I've ragged on this game time and time again so I don't think it should be necessary to repeat myself. Enough has been said about its most extreme content that has left serious psychological scars that are now forever implanted in my brain, but I also despised even the more tame scenes. I am of the belief that writing a good sex scene requires a certain finesse and an ability to get the reader in a certain mood, and I believe almost anything can be made arousing or at least palatable if written the right way.
Unfortunately, a majority of pornography in any media only emphasizes one specific trait and then exaggerates the fuck out of that trait. This results in material that, instead of being made to induce sexual arousal, is something that just exists to be played while one is already horny. This results in most porn being made by people who have no idea how to create something that actually is sexually arousing, and this leads to the misconception that one's enjoyment of an eroge is based entirely on an individual's sexuality and fetishes and that there is nothing to critique because eroge is innately lacking is substance.
Saying that a game like Starless is immune to serious critique is no better than when Friedberg and Seltzer say their movies "aren't for critics." This is pretty much saying "my creation sucks and is only meant to be enjoyed by those who have no standards." One of the key reasons I am drawn to eroge as a genre is the fact that being a game that costs real money to purchase means there is an innate objective to be better than the type of cheap wank fuel you can find on Pornhub.
So where does all that angry feminist screeching come in? It is quite simple; most porn is made to specifically emphasize the degradation of women. All of the focus is on a woman's body and them being in submissive and degrading positions while the same can rarely be said of men. Yes there is femdom but even then, the emphasis is put on the woman while she degrades the man and not on the man being degraded. The only general exception is gay porn in which there are no women.
Yes, there are a lot of women who are into degradation and being put in their place, hell I can kind of enjoy that kind of stuff as well… depending on how it's presented. I enjoyed games like Critical Hit and Ruby Striker despite them following the same basic premise because there was decent ability put into the writing and presentation. I am aware that this is a bit of an abstract concept, and it is one that I did not even discover until recently, so I will my best to try and describe this accurately.

I am probably one of the 8 people on the internet who does unironically believe erotica is art, or that it is at least capable of being so. I brought up that Friedberg and Seltzer quote because comedy is surprisingly comparable to erotica as a genre. What an individual will find funny can be just as abstract as what one finds arousing, and most people tend to assume that you can't accurately critique comedy. However, it is possible to critique how funny something is when you know specifically what makes something funny and how it makes someone laugh; it is NOT based on different tastes. Yes, there are a lot of nuances that will give some people different perspectives and reactions, but there are some general rules to follow. And yes, I think the same applies to porn.
Enter Meltys Quest, an eroge that has some sex scenes I quite enjoyed, but most were shit. The ones that I enjoyed were mostly the lesbians scenes (of course) but I did enjoy a few het scenes near the beginning. At first, I obviously thought it was just cause I wasn't attracted to men and was attracted to women, and that may be a part of it, but I am pretty sure there is more to it than that. I am not sexually attracted to men, but I am not necessarily repulsed by them either. I've already covered more than one eroge that involved straight sex scenes that I was able to enjoy. Being a trans woman probably plays into this because I do not consider dicks and semen to be male exclusive things, but there is a clear difference between Meltys Quest and the ones I liked.
The difference is that just about every man in Meltys Quest, with a few exceptions, is uglier than Donald Trump's hair. Many scenes will involve Meltys getting gang banged or sucking off several interchangeable unattractive men just because "she's a slut." The men themselves are not real characters or anything, they are just there to fuck Meltys or to get their dick sucked.
To Meltys Quest's credit, it DID try to present being a slut as empowering. Meltys is a Kogal after all, a Kogal being a Japanese subculture based around rejecting traditional Japanese values and that embrace promiscuity and materialism. In fact, the entire reason so many female Japanese characters wear skimpy outfits is to portray a rejection of Japanese Patriarchal Modesty norms and to show that said character carries inner strength and confidence.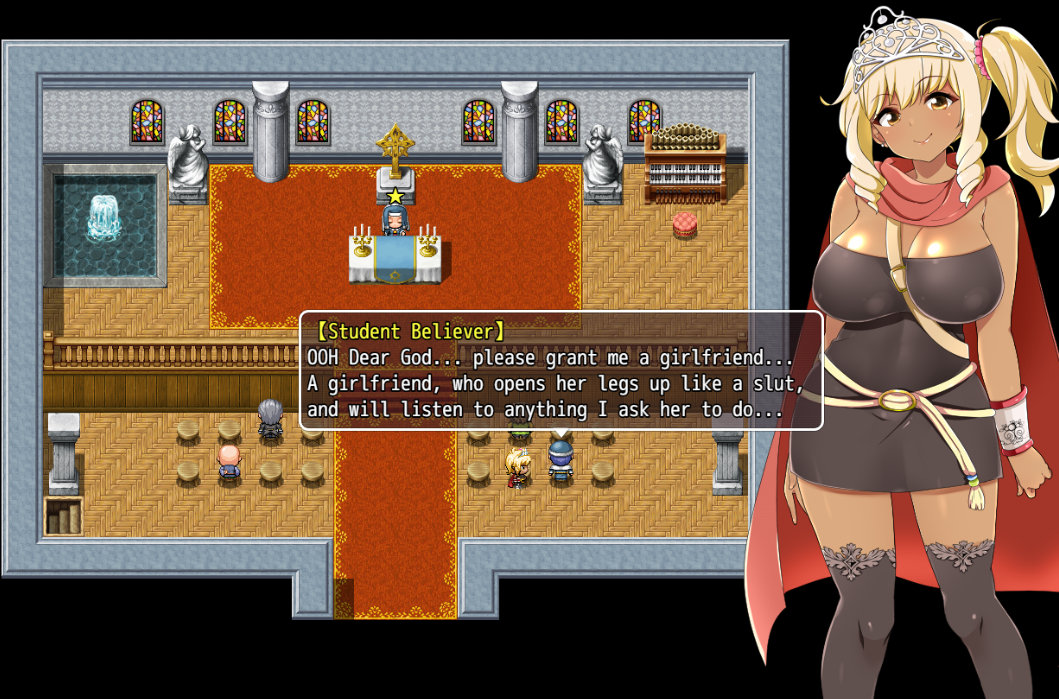 I'm not going to pretend I carry a full grasp of Kogal culture given that I'm not even from the country it originates, but from what I have gathered, Kogals are basically Japanese valley girls. Maybe being around communist trans catgirls all the time has caused it to rub off on me, but I think that the emphasis on consumerism makes less sense to me than the slutiness part. The latter makes sense since some women are just hoes and like that shit, and I don't think there is anything wrong with them if they do, but the former is rebelling against society… by giving them all your money. Thankfully, that aspect isn't a major theme of the game.
But anyway, properly critiquing this game on whether or not it handles sex positivity in a good way or a bad way is kind of tricky. In the past. I would have said it was, but I'm unsure about that since I took the rad pill (which is like the red pill, except totally rad) and thus obtained a more radical feminist perspective. Yes, I'm talking about radical feminism in a review of a porn game, fucking end my life.
As such, I'm not going to claim that a game about a girl sucking as many cocks as she can is misogynist, but it's also not exactly high art. On one hand, the game does portray slutiness and chastity as equally valid and does not discourage one. It seems like not only does Meltys personality and dialogue change based on her "slut level (yes, that's a thing in this game), but also the world around her. It kinda reminds me of another game I reviewed a while back called Lily's Day Off, a short and cute visual novel where the characters and backstory change retroactively based on choices rather than the events.
Meltys Quest is similar in that when Meltys has a lot of sex over the course of the game, all of her sisters tend to become sluttier as well when they aren't if you clear the game as a virgin. This is a fairly clever way of allowing the player to choose their own experience and play the game they want. Unfortunately, Meltys Quest was obviously intended as a porn game, so there is a lot of shit that steers the player towards slutiness even if they don't feel like going down that route. Yes, I know, it's a fucking porn game so not many people are going to expect it to stand on its own without the hentai bits, but I do honestly think this game could have managed it with the right approach, but there will be more on that later.
I am specifically harping on this point because the tutorial guy at the start of the game explained what a Kogal is and basically tried to present it as pro feminist, and some women will consider this game to be pro feminist. However, it greatly shoots its female empowerment message in the foot when enemies rape you when you're beaten in battle. Yes, the option to surrender to enemies is included, but the entire point of games is that you are trying NOT to lose.
Common sense dictates that this does not equate to consent, but your slut stat still increases even if it is just a regular loss and you also lose access to the purity dress outfit. Normally you don't need to worry about losing your progress since you keep everything and just start out on the world map again (and also get skill points and sometimes items from losses) if you get beaten. If you are trying to keep your virginity however, you need to reload your save file the old fashioned way, and god help you if you are under stocked or under leveled in the middle of a dungeon on Princess mode without a save file prior to the dungeon. If that happens, there's now way out of it. Poor implications aside, this is just a bad design choice.
But of course, implying that someone being raped a lot makes them a slut is terrible enough, but even a lot of the sex scenes that occur through sidequests still involve coercion. The game does at least have the courtesy to mark events that will trigger a sex scene, so maybe it isn't too bad if you choose to view Meltys as a player insert character since the player is controlling Meltys and thus the player is the one to ask for consent. This would be a reasonable explanation to me if this was the only issue, but unfortunately, there are some other scenes that I was not fond of.
Spoilers incoming
A specific instance that I found rather cringe inducing was a sidequest that involves rebuilding the Rothstein castle that was destroyed in the intro. At first, it seems innocuous enough in that all you need to do is gather the right materials. After that though, the young builder named Roy loses his motivation and needs to regain it by sucking on Meltys's breasts. This then leads to Roy and Meltys in a sort of quasi 50 Shades of Gray like abusive relationship where Roy shifts from acting like a nervous and quiet young boy to a manipulative and perverted abuser.

As much as I dislike the domestic abuse fetishism, I would normally be able to let it slide since the point of these types of pornographic works is to explore a specific kink in ways that could not work in real life. Most people are not going to be stupid enough to think this game is saying that abuse is okay based only on it being depicted. After all, if that was thew case then Looney Tunes would have caused an increase in animal abuse. A game like Meltys Quest is specifically intended to be sexually arousing and is thus only intended for an audience that is not stupid enough to take its words at face value. As such, I feel the need to state that my reasons for criticizing the moral implications of a game is not because "this will teach people wrongthink and that triggers me!"
The reason real reason that I and many others will focus on implications is because storytelling is about immersion making and the viewer feel a personal connection to what is happening, and that's pretty hard to do when it operates on amoral standards in a world that otherwise looks like our own. It is similar to the concept of "willing suspension of disbelief" in that what prompts one to be offended at a work's content depends on how it is presented in the context of the work overall and how consistent it is. In something like Rance where the main character is an amoral jackass without awareness of the fact that rape is bad, it is easier to suspend one's moral outrage at the events since it plays on the sense of values dissonance, while such a thing would could across as grossly inappropriate if the protagonist was like in any other game.
In Meltys Quest, sexual standards are certainly more lax than in real life, but it is not enough to avoid coming across as disgusting when it portrays a pornographic scene of an adult woman with an underage boy, while playing off the BOY as the predator! The reason this portrayal is so wrong is precisely BECAUSE this attitude is fairly common in real life. Another jarring instance involves one of Meltys's sisters being physically extorted into both sex and a relationship by on orc that was her minion when she was brainwashed by the bad guy. Not only does Meltys see this happen and do nothing about it, but Tonkin later apologizes and said that he was actually soft and emotional on the inside like most abusers do, and they end up back together.
But the worst instance of this was in the fifth ending, which is achieved if you have a slut level higher than 60, finish building the castle, then beat the game. A major end game twist occurs after the fight against Dhalia, Meltys's oldest sister. Early on in the game, it is revealed that Meltys's sisters were all brainwashed by the main villain Kahan to be slutty sex obsessed succubus types wearing absurd outfits despite previously being the more pure and princesstual types. The first two sisters, Eva and Garnet, revert back to normal after their respective battles. Dhalia however, is revealed to have an incestuous crush on her mother and has had it ever since she was a child to the point where she says that she's jealous of Meltys (who is a baby at this time) getting breastfed by her and of her father for getting to have sex with her. Of course, it just so happens that Dhalia accidentally unsealed Kahan who then possessed her mother and disappeared until the events of this game.
I found this to be a surprising twist, and it is the type of twist that can only exist in a game like this… unless it's Drakengard of course. If one manages to obtain said fifth ending, their mother finally gets freed and returns home. Dhalia finally confesses her feelings, and her mother reveals that and I quote "she's a bisexual who is totally okay with incest." Given that this ending is only obtained via a high slut level, it does make sense that the queen's sexuality and sexual tastes would be this absurd so this on its own is not a problem. During the final scene before the end credits, the queen reveals that she was involved in a yearly ritual that involves being fucked by and sucking off dozens of hooded faceless men at once, and that this is where Meltys got her slutiness from. Dhalia is horrified since her ideal image of her mother was that she was pure and not so lewd. This would have made for an excellent ironic punishment for Dhalia if it did not involve the queen saying that Dhalia could not be with her if she didn't join in said ritual.
The problem is that Dhalia only ever had feelings for her mother prior to this scene, heavily implying that she is a lesbian. The queen's justification given was basically "women were made to serve men" for why her daughter had to put out or get out. In predictable hentai fashion, Dhalia likes it and turns out to be just like her mother all along. So yes, it's not exactly rape induced conversion therapy so it's still better than Ladykiller in a Bind, but it's pretty fucking close. One could argue that there's nothing wrong because it meant Dhalia was always bi, but that isn't how this shit works. Lesbians NEVER just decide to try out sex with a man just to "see if they like it." That would be like telling a straight man to try and fuck another man to "see if he likes it." I have known too many women who often get this exact type of shit from idiotic fuck boys online, and this isn't even going into literal conversion therapy or all that other real life shit.
In general, Meltys Quest seems to only view lesbianity as some sort of fetish it only ever seems to be there for the porn while there is such a huge emphasis placed on sucking off and fucking any man she comes across. One ending has Meltys in a romantic relationship with a literal succubus princess, yet in the playable epilogue of the fifth ending, Meltys can decide to suck off just about any male NPC in the game including children, but not any of the girls? Not to mention that every lesbian character in the game is an insane pervert and a villain and bisexuality just seems to be used as a plot device.
End Spoilers
And yes, it does kinda feel like a low blow going after this game for negative implications, but I'm not going to sugarcoat things. It isn't even so much that this game "offends" me more so than that it is just cringey and awkward. It makes it seem like something meant to appeal to horny 13 year olds. I may be a lesbian, but I'm pretty sure most straight women aren't turned on at the thought of having sex with such unflatteringly designed male characters, male characters that were DESIGNED to look unflattering at that. When you have lesbian sex scenes, you have some really creative ideas and the game knows how to build on said ideas. I mean, even if you are not into the whole futanari thing, you have to admit that one was really thinking outside the box when they thought of a lamia with a dick for a tongue whose saliva doubles as pre cum, yet we get none of that for any straight sex scenes. Okay, I found the goblin, the slime, succubus, and shadow defeat scenes to be pretty hot, but after that it just started to get ughhhhh.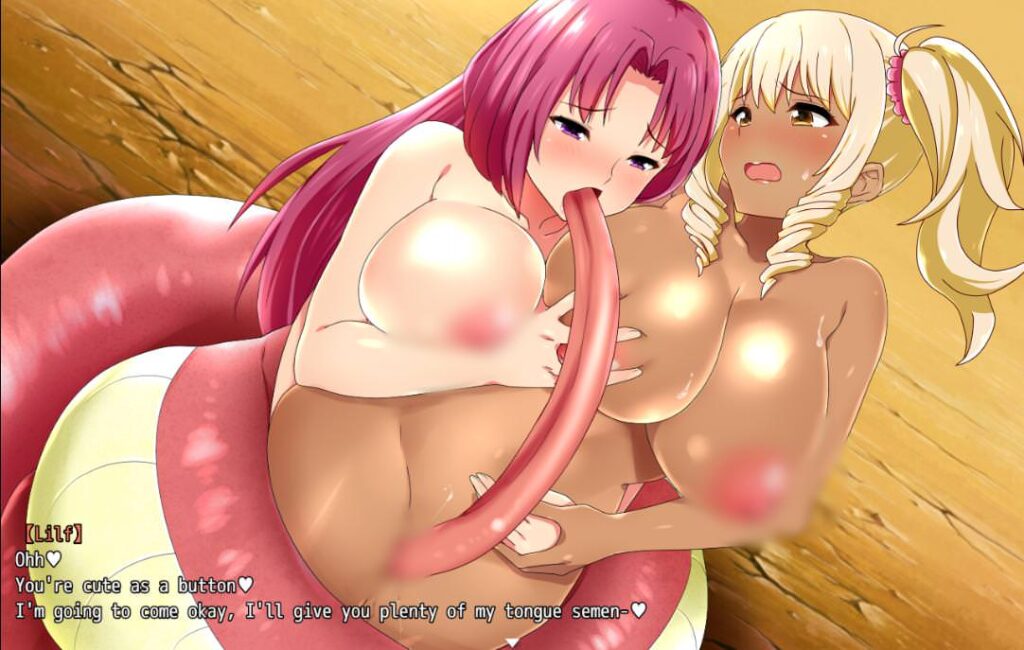 As odd as it may sound, I don't think that "degrading women" in porn is inherently a bad thing; degradation is a kink for some women. I don't plan to touch on the real life industry but In games at least, I don't see why that can't be explored. There is a key difference between something like Ruby Striker and something like Meltys Quest though. The former is made for both men that get off on seeing women degraded AND for women that get off on BEING degraded, and thus can be enjoyed by both. Meltys Quest will only appeal to those whose kink specifically is seeing women degraded and being in submissive positions and the fact that I'm actually putting this forward as serious critique makes me want to hang myself. Where the fuck is Monika when you need her?
I don't know, I'm probably being too harsh on this game for something that can be applied to most games of its genre, especially when my sexuality could be making it difficult to hold an objective view of things. But unfortunately, I just did not care for the sex scenes in this game. I don't know whether I should critique eroge and hold them to the same standards as any other game I review, or I should go a bit easier on them in regards to content. Hell, I ended up skipping a lot of the scenes in this game just like in most eroge I play. The plus side is that the character designs and art direction is very good, and thus the characters themselves look arousing AF… the female ones at least. Additionally, I did seriously find the actual game itself quite satisfying and fun to play, and the story was alright. It just feels weird to be saying that the sex scenes in a game about sex were what dragged it down, it feels like I'm kinda missing something here.
But anyway, the actual plot of the game stars a Kogal named Meltys, who is the youngest of the four daughters of King Rothstein. The other three daughters are all prim and proper like princesses are expected to be, but Meltys is… well she's a lazy and pampered Kogal. The game introduces opens with her oversleeping while her father is trying to deliver important news to his other three daughters, Ema, Garnet (not to be confused with the one from Final Fantasy IX), and Dhalia. During said meeting, demons attack the castle and destroys their soldiers, but the butler Rudolf reveals that he's actually quite the badass and disposes of the demons, at least until a short girl with enormous tits and an absurd outfit that does not even fully cover her nipples shows up, kicks everyone's ass, and kidnaps the other three princesses because of course she does. After Meltys collects items and gets a potion crafted to heal Rudolf, her father asks her to rescue her sisters and save the Kingdom.
Is a fairly simple set up, but what the game excels at is not only its cast of quirky characters, but the sheer absurdity of most of the plot and dialogue. If you were the type of person to ever say that Disgaea made too much sense to you, then have I got the game for you. While I wasn't a fan of most of the sex scenes and found some of the forced lines about sex rather cringe worthy, there were others that I thought were legitimately funny and humorous. Meltys is a very fun protagonist to play as with her amusing quips and ditzy nature.
I also quite enjoyed some of the other characters, such as Esmeralda, Meltys's sisters, Alfredo, and best of all, CENUS!!! Unfortunately there are some shit characters like Jobin, Tonkin, Roy, and that disgusting old man Folg that make me cringe just thinking about them. That being said, the fact that so many NPCs have established personalities in the first place is pretty impressive. Hell even the monsters have their own personality in their defeat scenes that you don't see anywhere else. Also, the fact that the game has as many different sex scenes as it does is impressive even if I didn't like most of them.
Despite some "problematic" story elements, there was a very unique charm to this game's world and characters, and it really helped draw me into the overall adventure. If one can tolerate some morally questionable themes at points and love these absurd and over the top quirky RPGs then Meltys Quest is definitely one to check out, and it is a testament to just how endearing this cast (err most of this cast) is that I can look past the more offensive bits. Additionally, the fact that it even tried to go for a female empowerment and present both chastity and promiscuity as valid should be rewarded and encouraged, since I'd imagine that not many hentai games would do that.
The reason that this charm shines through so well was because it is easy to see that Meltys Quest was aiming to be more than just fap material. There are some surprising moments plot wise, but the game never takes itself too seriously and it always is just a fun title to play.
Graphics wise, one can definitely tell that Meltys Quest was made in RPG Maker based on a single screenshot, but they are polished enough to make the game look competent (Translation: Meltys Quest isn't Final Quest). The art work is definitely great at expressing the intended meaning while also being pretty. A nice touch is that the female boss monster's clothes start to tear the more damage they take. Unfortunately, the Steam release is lazily censored with jarring black bars over any naughty bits, but the patch is free so it shouldn't be too much of a problem.
The sound effects in the game are effective, albeit generic and stock RPG Maker ones. I wasn't too crazy about the sound effects in the sex scenes but they can thankfully be disabled. I unfortunately never got to test this out considering that I simply didn't like most of the sex scenes to begin with.
The music is mostly well fitting and appropriate for the established tone of the game. I am not going to deny that the music IS great, but I was also disappointed to learn that most, or possibly even all of the it were RPG Maker defaults. Granted, the end credits theme may be original but I do not know for sure. Nonetheless, each track IS used used appropriately and there was a good track selection.
Gameplay in ero RPGs almost always seems to be a bit of an afterthought and is rarely as intricate or as complex as standard JRPGs. For instance, Lightning Warrior Raidy 3 was released in 2012 in Japan and 2015 in the west and cost $45.00 despite having more simplistic battle mechanics than Dragon Quest 1. Meltys Quest is better about this, but the gameplay is still on the simplistic side.
Meltys is the only playable character during battles, which means things will be naturally simplistic since this is a turn based RPG. Additionally, most dungeons are only made up of 2 rooms and game progression is fairly linear. A single playthrough of Meltys Quest may only take about six to eight hours but this IS a game that requires multiple playthroughs to fully experience. There are also 6 different endings and three different difficulty settings, each of which I did one playthrough on.
First was Kogal mode, which is basically easy mode. In this mode, enemies are weak, you have healing points in dungeons, and you can enter and exit dungeons freely. I found there to be a lack of any real challenge on this mode but I suppose that was to be expected. The next was Princess mode, which has slightly stronger enemies, no healing points in dungeons, and after the first battle you initiate in a dungeon you cannot leave until you beat the boss or lose. This mode was more challenging, but I cheesed most of it since I was more familiar with the game mechanics this time and knew what to take advantage of. The key to success is buying the gladius early by selling the ruby ring you got from Meltys's room in the prologue while selling off other materials, which will last you for quite some time. Otherwise, most strategy is based on the right elemental weakness.
Lastly, there was true princess mode which is only accessed on new game plus. Enemies are re-balanced to fit end game stats and bosses now have new tricks up their sleeves… except for the final boss that is literally the same. Why would you choose the final boss of all possible choices to cheap out on? Nonetheless, I definitely found this mode the most enjoyable to play.
Meltys Quest uses a job class system similar to Final Fantasy V's based on various outfits (an idea they totally stole from Final Fantasy X-2). In addition to getting the typical experience points, you also get skill points from each battle. Each outfit has a certain number of skill points required to learn a specific ability or trait permanently. Unlike Final Fantasy V (at least I think, it's been quite a while since I played Final Fantasy V and don't fully remember all the details), each outfit also alters your stats and comes with a pre equipped skill or attribute. Some of outfits will have the same skill for both which will allow them to stack while others have a different skill. This provides an incentive to switch outfits after maxing them out or if you have another piece of equipment with the same property.
Another element that comes into play regarding outfits is the slut stat… yes that is a thing. The way that the slut stat works is that you have a whole bunch of sexual actions that gain more points the more they occur in game. Whenever any one of these stats passes a certain threshold, Meltys's slut level will go up. An interesting factoid is that there is no max slut level, but the amount needed for each specific stat to go up will start to reach absurd levels that will just make it more and more tedious to increase, just like in real life.
The benefit to increasing this stat is that it allows Meltys to wear more revealing and sexy outfits that require higher levels for usage. I can only assume this is meant to be similar to The World Ends with You where male characters need to have a higher courage stat to wear women's clothing in public which I guess is pretty clever, although it's not fully accurate to say since some women can be virgins yet still perverted enough to go out in public with a bondage rope as your only clothes and surprisingly, I'm not one of them… not yet anyway.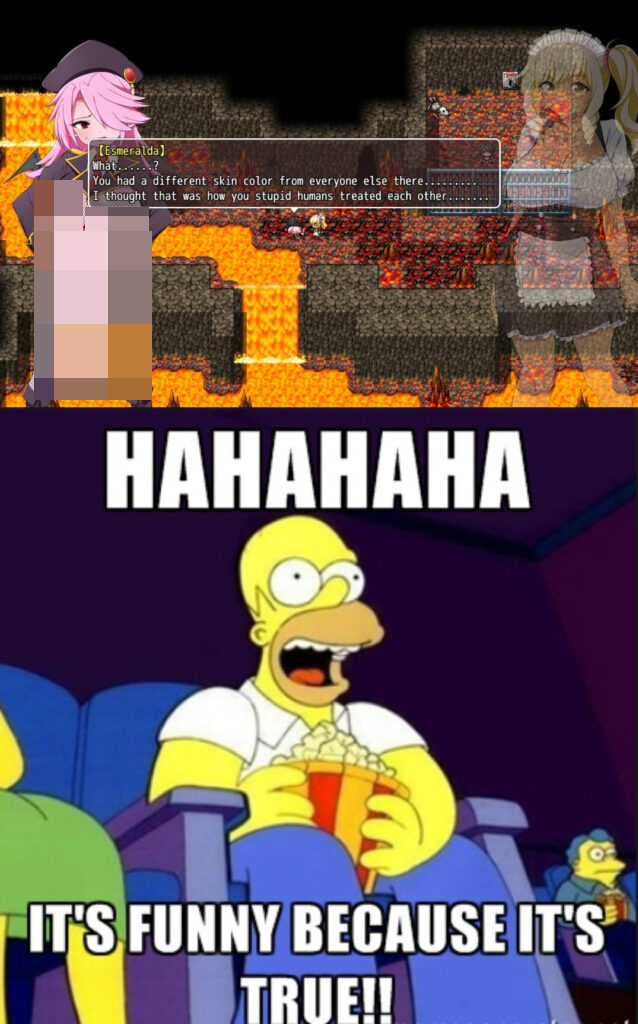 The inverse is also true in that certain outfits can only be worn if your slut level is below a certain level, and by "certain outfits" I mean one outfit, and by "below a certain level" I mean at 0. While the purity dress is a good gameplay based incentive to get halfway through the game without losing, and you certainly can't say that the game bashes chastity, it is obvious that Meltys Quest was primarily meant for the sex. While there is nothing wrong with enjoying it for that specific purpose, I think it would be pretty cool to have a game that allows for both the option to play it as a nukige or as a normal RPG depending on your choices. It's almost like role is determined based on how you play the game, I feel like there is a term for that… nope nothing is coming to me.
At the end of the day, Meltys Quest is what it is. I may have held a lot of gripes with most of the sex scenes and how they were implemented, but I won't deny that it is a very well put together game. Existing eroge fans who are already into all that trashy bullshit will likely not mind too much, and I am not prepared nor do I have any desire to say they can't enjoy it. Hell I had quite a bit of fun with the game despite this, which is definitely a testament to the work that went into it.
The only real concern is the limited appeal it possesses and the various ways that it could have been better. I know a lot of people who are undeniably perverted and would otherwise love this game if it were not for all the problematic shit. When one measures quality based on how well it accomplishes what it set out to achieve, Meltys Quest certainly meets the mark, and most of my criticisms towards this game are likely shit you will not see in any other review.
Perhaps that is how this review ended up so long. Remtairy did, in fact, provide a review code for this game as opposed to seeing the word "feminist" and immediately blacklisting me. As such, it would be pretty rude to slam the game for porn after that, I mean, what kind of asshole intentionally goes into a sexually charged game just to get offended over it and rustle everyone's jimmies? No one can be that stupid right?
Even if you are in the group who will be turned off by all the trashy shit, you still have to admit where credit is due. It is nice to see an indie eroge RPG localized with legitimate effort when you have sixty seven assembly line "translations" that I'm convinced were created by copy pasting the entire Japanese script into Google translate, then pasting the transcribed English script into Russian, then back into Japanese, only they instead accidentally selected Javanese, then back into English, and the finishing touches are made by cutting out each individual word of said script, hanging them up on the wall, and having monkeys throw lawn darts at them. Then again, I'm convinced that the resulting script would still turn out better than anything localized by SakuraGame. Regardless, it was clear that both the game in question and the localization were created out of a legit passion for eroge rather than for any commercial benefit, and if you want to see more decent localizations for indie eroge then purchasing this game would be a wise decision.
Anyway, if you are interested in trying this game out for yourself, it can be purchased here (Steam) or here (support my Patreon if you would like to see higher quality content with more resources to put towards it. If you don't want to spend any money on me, then you can also help out by simply sharing my blog on Facebook, Twitter, Tumblr, Reddit, or anywhere else where others will see it. You can also follow this blog if you would like to be kept up to date on my stuff, or you could follow me on any of my social media pages (listed at the bottom of the page) and could stop by The Guardian Acorn Discord chat if you would like to talk to me and my homies.