One who has followed Guardian Acorn for a long time may remember my review of Meltys Quest. I reviewed this back in January of 2018, meaning that it has been over half a decade since I covered it. Despite the fact that I covered Meltys Quest on a whim, basically just because I asked its publisher for a review copy, this review was regarded well enough that the game's creator Sachinama found my review impressive, and that I was sent a review copy for their next game, Karryn's Prison on December 12th of 2021, three days before the game was released.
Unfortunately, my stupid ass didn't think to check the email account connected to this site, and didn't even know this code was sent until several months later. And after I completed the game, it took me a while to get to writing the review because of… well shit I can't even remember what drama I was dealing with at the time, but it left me with a long list of shit I need to write reviews for. So I guess I've kept Remtairy and Sachinama waiting long enough.
Anyway, Karryn's Prison sets a very unique precedent in the eroge market, in that it's a rare example of a western and Japanese Dev co-developing a game after they initially collaborated for a localization. For context, Remtairy was responsible for the localization of Meltys Quest, while Sachinama was the dev. Their initial plan was to localize Sachinama's previous game, A Bitch JK in RPG (yes, that's the title), but that changed to an attempted remake that they eventually cancelled. The ideas they intended to implement into this remake were then implemented into Karryn's Prison, a project that the two of them co-developed. And all of this was done with a language barrier mind you.
The end result was certainly interesting. As far as gameplay nukige goes, Karryn's Prison is unique in that it is a hardcore dungeon crawler that implements sex into the gameplay itself. You can quite literally choose to either fight enemies normally, or seduce them and drain them of all bodily fluids. You know, there's a lot of people that say that games like this are degrading to women, but just try to tell me that starring down a large creature three times your size, and wringing every last drop of cum out of them until they go limp, and casually discarding them to the side isn't the most powerful fucking shit? In other words, Karryn's Prison is a game that allows you to take 10 men at once in EVERY sense of the word.
So, you may be asking, but is it hot? My answer to that would be, "parts of it are." I've described Meltys Quest as a very trashy and low-brow title, and the same applies to Karryn's Prison. For those who want genuine intimacy and emotional connections with characters in their eroge, this is NOT the game for you! You could see that right away with Karryn's grotesquely oversized tits that are almost twice the size of her head. Now you all know I like my booba as much as anyone else, but this is fucking absurd.
In actuality though, this absurdity may play to the game's strength though. Karryn does not look like a human being, she looks like a sentient, inhuman, sex doll that exists only to suck and fuck. This type of character design is horribly sexist, degrading, and misogynistic, and that's why it's so hot! You see, Karryn isn't the type of woman I think is hot to fuck, but she IS the type of woman I think it's hot to BE! And so much of this game is based around enemies having their way with you. You quite literally need to suppress erogenous zones and keep your clothes on to keep from being raped.
It goes without saying that I have a pretty big exhibitionism kink. For fucks sake, you could probably find my nudes just with a bit of digging. And it's because of this that Karryn's Prison was arousing on a conceptual and immersive level, while also being rather creative. Don't know of that many turn based RPGs that have interactive gang rape scenes from the victims perspective after all. That being said, don't expect a sense of intimacy or emotion from these scenes, as most of the appeal is in the animation and interactivity.
The game stars the titular Karryn, a high ranking imperial officer who is tasked with taking over Fort Ganon. Fort Ganon is completely overrun with criminals and other aggressive, perverted creatures who will take complete advantage of Karryn at any opportunity, and you need to take control of her as she sets out to restore order by subjugating all the rioting inmates, and also managing the prison's finances. Karryn's Prison functions as a hybrid between a simulation game and a turn based RPG, where one needs to take effective advantage of both mechanics to succeed.
While I wouldn't expect much from the story, I do think the the presentation and the music get the job done. As with Meltys Quest, most of the music sounds like default RPG Maker tracks, and I'd guess they probably are. The set of characters are interesting, and the dialogue is often amusing, but there is one complaint I have related to the story.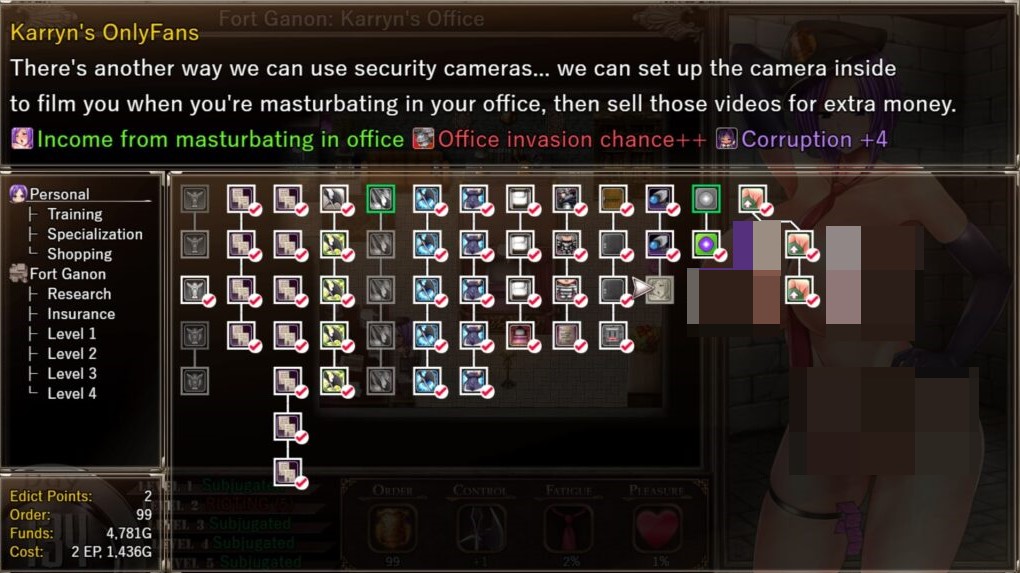 Similarly to Meltys Quest, the story of Karryn's Prison changes depending on how many times Karryn has sex. Unfortunately, Karryn's Prison does not differentiate between sex that is suffered as a result of losing a battle and being raped, or that one initiates on their own. This ends up especially egregious considering that at certain points in the story, Karryn will receive a letter from the emperor (who is also Karryn's love interest), and Karryn will express guilt about "sleeping with so many of the inmates." On top of that, one of the endings will have Karryn get gang banged by all of the former inmates right at her wedding to the Emperor, right behind his back.
I wasn't really expecting some sort of feminist masterpiece from this game to begin with, but even discounting the moral implications, it just sort of takes you out of the mood and doesn't make a lot of sense. Why not add gameplay related incentives that, in the context of the story, would lend credence to the idea of Karryn being more promiscuous and corrupt as time goes on. Technically, the game DOES actually have options like this implemented into the management sim portions, but not into the combat.
That brings me to the subject of gameplay, which I have mixed feelings about. Karryn's Prison is unique in that it did not settle for being an generic turn based RPG with lewd scenes. It instead, attempted to appeal to the specific niche of people who want a gruelingly difficult dungeon crawler while also seeing large breasted women being raped by ugly bastards. Karryn's Prison succeeded in that attempt, for better or worse.
Karryn's Prison is designed to be deceptive, as if they wanted to replicate the actual difficulty of subduing a prison full of dangerous, violent criminals. I made the mistake of playing the game on "Warden mode" instead of the beginner friendly "Secretary mode," and I had to restart my playthrough TWICE!! It's not a simple "grind until you win" type RPG either. Leveling is handled similarly to Final Fantasy II in that stats level up as you use relevant commands in battle. You also three different types of physical attacks you can use, and every enemy fits into one of these types, making them strong against one type and weak against another.
So, sounds like a typical rock, paper, scissors mechanic right? Yeah, and one would assume the best strategy is to use them evenly so they all level up, but doing that actively sabotages your stat growth. You instead need to choose only two attack types and decide to never use the third one, because your attacks will be too weak otherwise. The game actually tells you this by the way… but only after you fail a play through, and have to start again on new game plus.
This is in addition to the fact that stat gains are capped based on your level in the game, that there's a fatigue mechanic that decreases your stats, and that losing means you can't use your weapon until you use it and prevents you from sleeping (which results in a day passing without healing fatigue), AND that you have a chance of being ambushed when you try to sleep, which will force you into a battle that you are often too fatigued to win.
Oh, and this isn't taking into account that Karryn's horniness is a status that needs to be suppressed, or else enemies just start having their way with her in battle, which prevents her from attacking. Your only options are to suppress arousal, which will give you the "sexual frustration" status and make it harder for your attacks to connect, or to masturbate until your arousal is relieved. But there's one problem, you can get ambushed during masturbation sessions to. Oh, and the more you have sex (read "get raped" IE lose battles), the harder it becomes to suppress arousal. Yeah, you read that right. Your punishment for losing repeatedly, is for the game to become even HARDER!
On top of that, there's the simulation elements, which make things even more complicated. To try and keep things up, you get two edicts you can perform each day. These include everything from rebuilding rooms, upgrading status, gaining new moves, new management rules, buying new equipment, etc. Depending on the difficulty mode, your edicts are limited. This greatly restricts how you can effect the game, and the decrease from three to two edicts on Warden mode makes things even MORE restrictive.
And these don't just serve as straight upgrades either. One of the constant risks throughout the game is keeping "order" above 0. If it hits zero, it's game over, and you get to start all over again. You also need to manage expenses, as you only get an allotted amount of funds each day, and can only earn additional funds through certain edicts, or through side job mini games. Said mini-games are repetitive and time consuming, with some taking up to 45 minutes in real time, while also being necessary from a strategic perspective if you play on anything higher than Secretary mode. Oh, and you can get ambushed and gang raped in the fucking mini-games to!
Now, I will admit, I'm not a big fan of management sim games. The reason for this is because they are almost always trial and error based, where punishment consists of replaying the whole game again. That being said, it's a bit easy to get back into the swing of thing when you restart. When you have this couple with RPG mechanics however, this means a longer game, and a longer game means more shit to retread. It took me 37 hours across multiple play through, two of which were basically a waste. And I only beat it because I got tired of the bullshit and switched to Secretary mode, which just made my victory feel hollow. The only incentive after beating it once is multiple endings, but New Game plus doesn't help with that, because they carry over your slut level, which effects said endings. There's also no bonus boss battles on other routes or shit, which is why I had tapped out after my third attempt.
Karryn's Prison is intended for a specific audience of people who want dungeon crawlers that will drive them mad, while also having a ton of gratuitous gang rape and sex. For those that are looking for sex, just play it on Secretary mode. As for my impressions, I kinda liked Meltys Quest better. I enjoyed parts of Karryn's Prison, don't get me wrong, but the overall experience was… frustrating.
–
If you would like to support me or this site, then please support my SubscribeStar and like the post for this review if you would like to see higher quality content with more resources to put towards it. If you don't want to spend any money on me, then you can also help out by simply sharing my blog on Facebook, Twitter, Tumblr, Reddit, or anywhere else where others will see it. You can also follow this blog if you would like to be kept up to date on my stuff, or you could follow me on any of my social media pages (listed at the bottom of the page).