When you are a game like Mutiny!!, you pretty much have people sold on the premise alone. I mean, who wouldn't want to delve into a visual novel about a lesbian sex worker who inherits a role as a ship captain of a bunch of lesbian monster girls? Most of my expectations were met with Mutiny!! but there were some areas where it kinda fell short and I don't feel as enthusiastic about it as i am writing this as when I initially completed it. Don't get me wrong, this game is great, but I do feel there are some ways it could have been better. It may be difficult to explain how though.
Criticizing Mutiny!! makes me feel similar to when I need to call out a close friend of mine on something I believe they are doing wrong. There is a bit of hesitance put forward because I hold this game in quite high regard, enough that I worry about second guessing myself given my criticism pertains to so rather subtle aspects. I mean sure, there are obvious criticisms to make that only half the routes are available with the initial purchase and the rest are DLC, some of which has still not even been released, but I do admit I was kinda relieved when this game was over and that I didn't need to redo the same 7 ship battles and puzzles just to see a few extra conversations that Grace has with her first mate.
And let me reiterate that I LOVE this game. I love it's story, it's characters, it's writing, and it's art style. What I don't love is its pacing. Our story is about Grace, an ex sex worker who becomes a treasure hunter with a bunch of monster girls as her crew. She is told that if she can pay off the deadbeat ex Captain's debt than the ship and crew are all her's. Whether or not you succeed is based upon the choices you make along the way.
Mutiny!! has a creative world built into it with a ship that can travel in the sky AND underwater in additions to the many unique types of monster girls present. Most people only ever think of "monster girls" as fetish concepts and they don't bother to make interesting characters. I got a marginal amount of enjoyment out of Monster Musume but I don't exactly think overly highly of it.
Mutiny!! is basically what Monster Musume would look like if there was actual creativity involved. Monster Musume includes a spider girl who is also a dominatrix because that's hot, and that is fair enough I suppose. Mutiny!! includes a spider girl who is very shy and self conscious about anything sexual because people are afraid of spiders, and thus spider girls are unfairly judged and frowned upon by ignorant bigots. This is why queer women are so much better at writing erotica than cis men.
You also have a bear girl who basically struggles with borderline personality disorder, you have a chameleon girl who acts emotionless and has little energy unless she is given a suit that regulates her body temperature, a horse girl who is often anxious very insecure about her overly large penis, a very perverted fairy who ISN'T Kyu from HuniePop, a Sphinx girl with a royal upbringing yet isn't a total brat, and a moth girl who serves as the ship's maid.
Mutiny!!'s greatest strength comes from its characters. Each of them are very well developed highly endearing. I found both Nemui and Alcina's routes very engaging in how you got to know them deeper than you would through the standard storyline. Both of these characters had a normal ending, a "good" ending, and a mutiny ending. The good ending happens if you make all the right choices when finding the treasures AND in your interactions with them. It is possible yet also tricky to get these endings and you will usually end up with the normal ending if you don't use a guide.
The mutiny ending you will never see unless you actively go out of your way to see it or at least if you decide to stick by every choice without save scumming. An in game message will appear telling you that "risk of mutiny has increased" whenever you make a decision that locks you out of getting a major treasure, sustain heavy damage from pirate attacks, or push the crew to their limits to get away from said pirate attacks… which I never used because you can't die in pirate attacks anyway.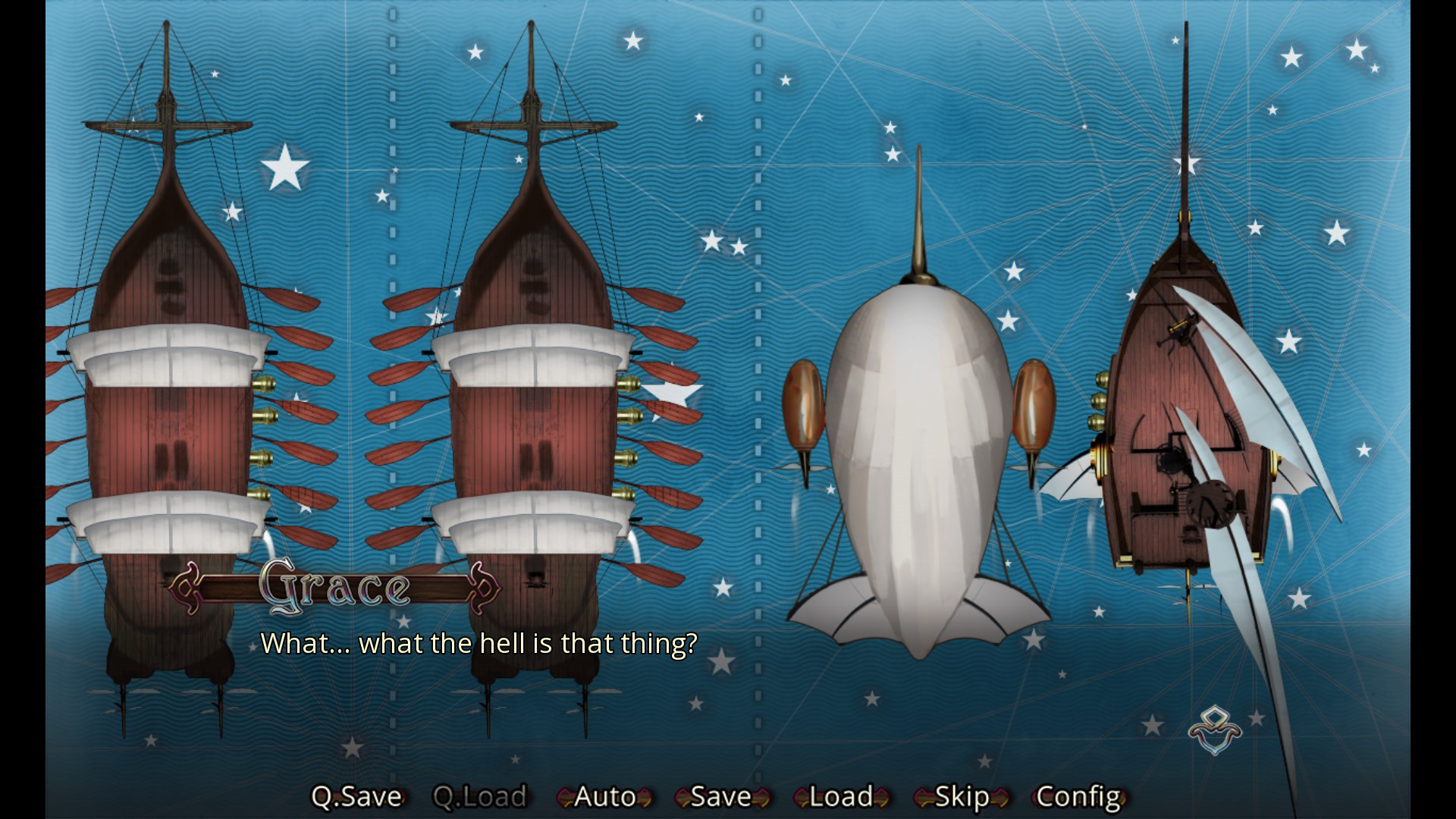 I will just be blunt here, the pirate defense minigame SUCKS! About the only positive with this minigame is the music and the rest is a complete mess. The entire point of the minigame is that you choose whether the ship should shoot, brace for impact, dodge, swerve and shoot, or brace and shoot. The goal is to take as little damage as possible and make like Melania Trump's standards and get the fuck out of there. There are quite a few problems with this minigame but I will start with the most obvious.
There is no animation or images to indicate what the hell is going on whenever you select an option; only a sound effect and whether or not the damage meter goes down. When you are first told about the minigame, you are told what to do based on whether you had ships close to you, mid range, or far away. You open fire if they are close range, brace for impact if they are mid-range, dodge if they are far, etc. Here is what the guide I used says the solutions for these ship battles are.
Notice anything strange about them? Probably not because it's a bit of a subtle observation but I need to sound smarter than I actually am so I'll make it sound obvious; only two of those have you select the same option five times in a row. The other ones are made up of two options with them cycled around at random, or at least they may as well be because we don't see any images or descriptions of what the enemy ships are doing. In addition to the fact that some of them clearly have three ships when the only thing the game said about multiple ships being present is to run the fuck away, the last three will pretty much one shot you with one wrong move with a pretty low percentage of you guessing it on the first try.
"But you said that you have to go out of your way to fail these things, why won't you be consistent in your reviews Annie?" You really need to learn to read the entire thing before I finish my reviews hypothetical critic, because I always make comments saying what you are about to say in quote for the express purpose of refuting them. Anyway yes, you still have to go out of your way for the mutiny ending because all you need to do when you fail these ship battles is scroll back through the text to the start of the battle then start over. The same applies for any choices you make throughout the game so the consequences will never be the same… literally.
This of course makes ship battles entirely pointless and unnecessary to begin with, but they become even more annoying when you still have to get out your guide and click through them on repeat playthroughs. Other minigame puzzles were skipped over if you already solved them yet you still had to deal with these bloody ship battles over and over again.
On the subject of the mutiny routes, I also found it disappointing how certain options that upset individual members of the crew never factored into the risk of mutiny, such as choosing to not give Nemui the suit or forcing Lara and Lirdynrea to come with you to find the treasure when they were too fatigued. These choices are rendered negligible unless you are on their routes where they will lock you out of the good ending, and this makes the choices seem infinitely less important.
But the other flaw that I was going on about at the start was not the ship battles, although they do suck. The real problem is the pacing of the plot. The characters, writing, and aesthetics are all top notch, but the story could have been laid out a LOT better. It felt like there was little risk or conflict going on in the main story unless you were going for the mutiny ending where you end up going further and further behind into debt from failing to find treasures and having to handle ship repairs. I love Grace and her crew but there seems to be little resistance to everything and I really wish that there was more of a driving conflict other than character squabbles. That you needed to put serious effort into keeping your crew satisfied and attending to concerns as opposed to focusing on one at a time.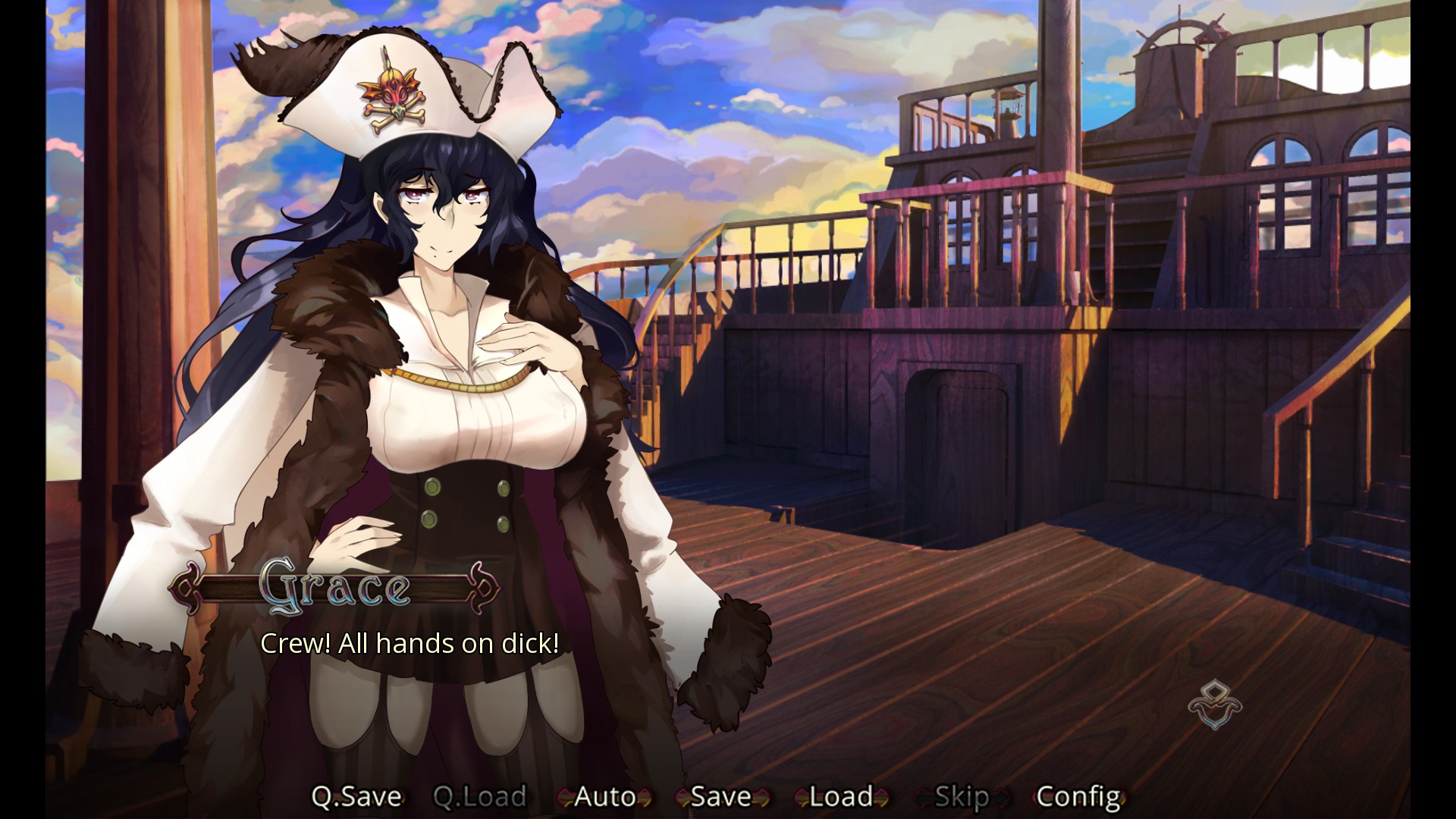 This is a major theme of the game that was handled very well in the story itself, but it really feels like the game itself could have implemented the various character conflicts into the story in a way that flows better. By the time I went through Lara and Lirdynrea's route, I just felt worn out because I was forwarding through personal characters scenes with little connection to the overall plot. It could just be that I just wasn't feeling right the past few weeks considering that I would definitely like to go through the remaining character routes, but I'm a bit Mutiny!!-ed out for now.
Currently Mutiny!! goes for $10 on MangaGamer.com, which is where you want to get it if you want it uncensored. You can also get Grozdana and Elizabeth Margaret's route for an additional $11.00. Bree and Foo don't currently have routes though. While I generally prefer that games have all the content ready to go from it's release, Mutiny!! at least has a fair price point for the amount of content it offers considering that the DLC routes also come with a soundtrack. Overall Mutiny!! has my approval. There's no need to stage a mutiny over this one.
–
If you would like to support me or this site, then please support my SubscribeStar if you would like to see higher quality content with more resources to put towards it. If you don't want to spend any money on me, then you can also help out by simply sharing my blog on Facebook, Twitter, Tumblr, Reddit, or anywhere else where others will see it. You can also follow this blog if you would like to be kept up to date on my stuff, or you could follow me on any of my social media pages (listed at the bottom of the page) and could stop by The Guardian Acorn Discord chat if you would like to talk to me and my homies.